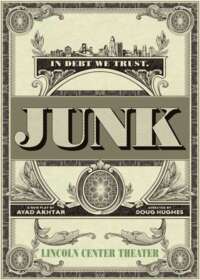 Junk
Broadway Show Tickets: Show Closed No Longer Available
Junk on Broadway: Show Is Now Closed
Show Status: Closed

Genre: Play

Junk is 2.5 Hours long, including an intermission of 15 Minutes

8 Shows per week

Previews Began: September 14, 2017

Show Opened: October 12, 2017

Show Closed: January 7, 2018
Junk is a fast-paced thriller and a politically relevant drama. The full title of the play is Junk: The Golden Age of Debt.
The story focuses on a business journalist named Judy Chen, who sets off to write an expose on the new ruthless kings of Wall Street. In particular, her focus is a character named Robert Merkin, the businessman who revolutionized the concept that debt can in fact be an asset.
Junk

on Broadway Background
Junk is likewise produced by Lincoln Center, and like Disgraced, it is an insightful and biting political drama. Junk had its world premiere in the summer of 2016 at the La Jolla Playhouse in California, after which the Los Angeles Times called it "thrilling" and a "modern-day morality tale." The critic Charles McNulty even went so far as to say that Ayad Akhtar surpasses all the op-ed writers and television news reporters in terms of providing insight into the origins of the economic mess in which we find ourselves today.
This play is directed by Doug Hughes, who also helmed the world premiere. At the time, the Los Angeles Times compared Hughes' direction to that of a chess master. While Disgraced tackled the topic of American-Islamic relations in the modern day, Junk is set in 1985 and deals with the corruption of Wall Street and capitalism.
Like the recent blockbuster hit film "The Big Short," Junk is an enlightening depiction of the decline of our economy and society. The title refers to junk-bond financing, and the drama focuses on the point in history when U.S. manufacturing was in decline and this new form of financing became the go-to method of revitalizing the economy, but at a significant cost.
Junk is a new play by the acclaimed playwright Ayad Akhtar, whose Pulitzer Prize winning play Disgraced played the Lyceum Theatre in the fall of 2014, following a successful run at Lincoln Center.
Akhtar is uniquely talented in his ability to tackle politically relevant and timely topics, but with a breathtakingly engaging ear for dialogue and dramatic pacing.
While set over thirty years ago, Junk is incredibly relevant to the world today, as it illustrates a perspective on when society became obsessed with money over all other things, and when debt counterintuitively became the path to wealth. This play is a must-see for anyone interested in the economy in our world today.
The show is most appropriate for those aged 12 and over, due to strong language and adult situations. Children under the age of 4 will not be permitted in the theatre.
Vivian Beaumont Theatre
150 West 65th Street
New York, NY 10020
Entrance:
65th Street, between 10th and Broadway
Theatre Information
Produced in Association with:
Scenic Design

John Lee Beatty
Costume Design

Catherine Zuber
Lighting Design

Ben Stanton
Sound + Original Music

Mark Bennett
General Manager

Jessica Niebanck at Lincoln Center Theatre
Production Manager

Paul Smithyman at Lincoln Center Theatre
Advertising Representative

SPOTCo
Press Agent

Philip Rinaldi Publicity
Casting Director

Caparelliotis Casting
Stage Manager

Charles Means