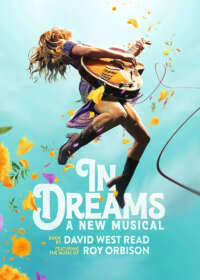 In Dreams
Broadway Show In Development
In Dreams is in Development
Show Status: In Development

Genre: Musical

In Dreams is 2 hours and 15 minutes long, including an intermission of 15

8 Shows per week

Show Closes: Open ended
A former lead singer of a country rock band who, at a critical moment in her life, throws a party in a family-run Mexican restaurant to reconnect with her old friends, while keeping her deeper motivations a secret. The show features the hit songs of rock & roll pioneer Roy Orbison.
In Dreams

on Broadway Background
Show Out-Of-Town Tryouts Scheduled
The show has out-of-town tryouts scheduled at Leeds Playhouse in the UK and the CAA Ed Mirvish Theatre in Toronto before an expected transfer to Broadway in 2024.

Roy Orbison Songs
2023 Tony-nominated & Juliet writer David West Read has penned the book for the work featuring the songs of the rock and roll singer-songwriter Roy Orbison.
The Original Song
"In Dreams" is indeed a famous song by Roy Orbison. It was released in 1963 and has since become one of his most beloved and iconic songs. The haunting melody and Orbison's powerful vocals contributed to the enduring popularity of "In Dreams."
In Dreams is a new musical that uses the iconic music of Roy Orbison to tell a contemporary story about love.
Choreographer

Fabian Aloise
Set Design

Arnulfo Maldonado
Costume Design

Fay Fullerton
Playwright

David West Read