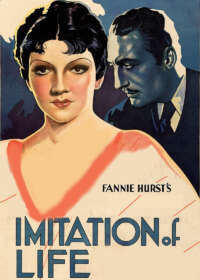 Imitation Of Life
Broadway Show In Development
Imitation Of Life is in Development
Imitation Of Life

Summary
Show Status: In Development

Genre: Musical

Imitation Of Life is 2 hours 10 minutes long, including an intermission of 15 minutes

8 Shows per week

Show Closes: Open ended
Set during the early 1910s in Atlantic City NJ, a Black woman navigates her life and business while her light-skinned daughter is determined to build a new life for herself full of white privilege.
Imitation Of Life

on Broadway Background
Original Book Published in 1933
The Imitation of Life book was originally published in 1933, and the novel deals with issues of race, class and gender.
Movie Treatment in 1934
The first Imitation of Life movie appeared in 1934, just one year after the book was first published.
The original movie was nominated for an Academy Award for Best Picture and in 2015 was added to the U.S. National Film Registry of the Library of Congress due to its cultural significance.
Movie Treatment in 1959
A remake of the 1934 film was done in 1959, that included top stars are Lana Turner and John Gavin. The stars received Academy Award nominations for their performances.

Lynn Nottage and John Legend Develop The New Broadway Show
Lynn Nottage and John Legend brought their creativity and talents to this retelling of the story for Broadway in a bid to illuminate and uplift modern Black life.

What's
Imitation Of Life

Like?
Set in the 1910s in Atlantic City, New Jersey, the story explores issues of race, class and gender in early 20th-century America.

Bea is a young black girl left to fend for her incapacitated father and and her young daughter all by herself. Using he canny attitude and daring approach, she battles through the early-century sexism and racism to build a thriving and successful business.
As her daughter grows up, she is painfully aware of the tension between her white appearance and black racial identity. She continually attempts to pass as white to gain wider advantages and succeeds. She ultimately severs all ties with her family and she marries a white man and moves away. making the full transition to white society.

Is
Imitation Of Life

Good for Kids?
The content of this show is appropriate for children over the age of 14 years
Universal Theatrical Group
Original Book

Fannie Hurst
Music and Lyrics

John Legend