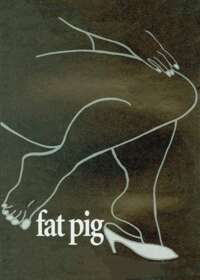 Fat Pig
Discount Tickets and Show Information
Discount Broadway Tickets For Fat Pig
Show Status: Cancelled

Genre: Play

Fat Pig is 2 hours and 10 minutes long, including an intermission of 15 minutes

8 Shows per week

Previews Began: April 12, 2011

Show Opened: April 12, 2011

Show Closed: April 12, 2011
Jeremy Piven was originally attached to Neil Labute's Fat Pig which is a timely play about bullying and compassion. The show closed a few days before its scheduled opening.

Fat Pig

on Broadway Background
Fat Pig was cancelled a few days before it was scheduled to open on Broadway, making it another rare Broadway show that burns through investor cash and does not even see the light of day on Broadway. The reasons given for the cancellation was a financial one - in that the investors pulled out after they saw the final product and an alternative investor could not be found in time. Incidentally, Jeremy Piven had been associated in a previous incarnation of Fat Pig that had won the Outer Critics Circle Award for Outstanding Off-Broadway Play in 2004, and although he is no stranger to last minute cancellations on Broadway himself, Piven's rep states that he had nothing to do with this show's failure and cancellation on Broadway. Some critics have speculated that Piven was actually the investor who pulled out of the show and his motivation was that he was upset that he was not chosen for the lead role himself and was especially irked following his successful Off-Broadway run. Piven is clearly no stranger to Broadway shenanigans, especially with his sushi poisoning debacle in 2008, when mercury poisoning led him to pull out of Speed The Plow.

Tom falls for a charming and beautiful woman, who also happens to be overweight. But when his friends ridicule her, Tom starts to reconsider his feelings to her and to them. Controversial playwright Neil Labute takes on our society's attitude towards overweight people in the new play Fat Pig, which was produced on Broadway at the Belasco Theatre in a production starring actor/comedian Dane Cook, Julia Stiles (who recently starred on Broadway in Oleanna), and Josh Hamilton (The Coast of Utopia, Proof). With these popular stars from different backgrounds, Fat Pig presold a huge amount of tickets, which were refunded when they decided not to open the show.

You might expect the show to start off as a classic bully story, but Labute takes the show down another path where the characters develop compassion over the length of the show and come to have a better understanding of their adversaries. The show is not for the feint of heart and overweight audience members may get their feelings a hurt, if not destroyed. This is the only show on Broadway that has a hard time selling any candy at the intermission, in fact on some nights they expected to not even bother opening the concession stand.

Is
Fat Pig

Good for Kids?
This is definitely not a show for children. With its adult themes, bullying and common swearing in almost every sentence. This show may not even be suitable for most adults.
Belasco Theatre
111 West 44th Street
New York, NY 10019
Entrance:
44th Street between Broadway and 6th Avenues
Theatre Information
Carter Cruikshank

Dane Cook
Helen Merton

Julia Stiles
Jeannie Franklin

Keri Russell