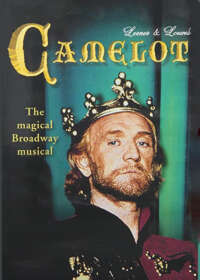 Camelot
Tickets for Future Performances
Camelot on Broadway Show Information and History
Show Status: Future

Genre: Musical

Camelot is 12 minutes long, including an intermission of 15 minutes

8 Shows per week

Previews Begin: November 3, 2022

Show Opens: December 8, 2022

Show Closes: February 23, 2023
A revival of the quintessential show albeit a new 21st century take on the classic tale in King Arthur's Camelot and the tragic struggle between passion and aspiration
Camelot

on Broadway Background
Based on the book by Academy and Emmy Award winning writer Aaron Sorkin, which is in turn is based on the original book by Alan Jay Lerner, Camelot tells the story of the iconic characters King Arthur, Queen Guinevere, and Sir Lancelot . This is a story about the quest for democracy, striving for justice, and the tragic struggle between passion and aspiration, between lovers and kingdoms.
The show is directed by Bartlett Sher, who directed a one-night charity concert performance of Camelot in 2019, that starred Lin-Manuel Miranda.
Prior Productions of the Show
The 1960 production of Camelot starred Robert Goulet, Julie Andrews and Richard Burton. The musical had become associated with the Kennedy Administration, which is sometimes called the "Camelot Era". Jackie Kennedy had famously compared her husband's presidency to King Arthur's reign. JFK was the 35th President of the United States (1961-1963), and was the youngest man elected to the office at just 43 years old.

The last version of the show performed in 1993 at the Gershwin Theatre and again starred Robert Goulet, but this time with Steven Blanchard, Patricia Kies and Tucker McCrady.
Camelot tells the story of Arthur, a young squire who becomes King after extracting the sword Excalibur from the stone in which it sits. The musical Camelot opens in the midst of the battle that destroyed King Arthur's kingdom, and goes back to tell the story of how the battle came to be.
The musical follows Arthur from a young, ambitious, idealistic King who dreams of creating a just society to the despairing king bearing witness to his dream's demise. Arthur's dream is inspired by his Queen Guinevere. Together, they create a kingdom where might works at the service of right and the King serves at a round table with no head. This is a symbol of collaboration, unity and inclusiveness.
But just as this utopian vision starts to become reality, everything begins to unravel. When Guinevere falls in love with Arthur's most celebrated, beloved, and loyal knight, Lancelot, they begin a romance that is as doomed as it is passionate. Their troubles are compounded when Arthur's illegitimate son, Mordred, arrives on the scene and is not too happy about how things are run.
In a world of human realities, can Camelot achieve the utopia of which Arthur dreams or does it come crashing down?
Is
Camelot

Good for Kids?
Many scenes in the show depict adult content including death, gore and adultery. The show may only be appropriate for children over the age of 16 years.
Vivian Beaumont Theatre
150 West 65th Street
New York, NY 10020
Entrance:
65th Street, between 10th and Broadway
Theatre Information
Original Book Writer

Alan Jay Lerner