Discount Broadway Tickets For Burn This
Regular Price Tickets
ORCH $169.00
MEZZ $69.00
Discount Code Tickets
ORCH $119.00
MEZZ $59.00
Expires 07/17/2019
Lottery Tickets
$39.00
Rush Tickets
Secondary Market
$146.00
Burn This is 1 Hour and 20 Minutes long, including an intermission of 15 Minutes

8 Shows per week

Previews Began: March 15, 2019

Opened April 16, 2019

Show Closes: Open ended
The play is set in downtown New York in the 1980s, and peruses the relationship of a restaurant owner who falls in love with a dancer.
Burn This

on Broadway Background
After a long search for a suitable venue this four-character play will finally open at the Hudson Theatre where it was first due to open in 2017. Tony nominees David Furr and Brandon Uranowitz will join Keri Russel and Adam Driver in the 2019 production with brand new staging and scenery.
Burn this was originally seen off Broadway in 1987 and was later due to start on Broadway in early 2017 starting Jake Gyllenhall however due to scheduling
conflicts the show failed yo open.

Tragedy strikes when Anna, the main character who is a dancer loses her best friend and roommate in a tragic boating accident. It is a heartrending story about relationships, identity, and love. It is this terrible event that brings together a dancer and a restaurant owner to create an explosive love story.

Is
Burn This

Good for Kids?
The show is most appropriate for those over the age of 12. Children under the age of 4 are not permitted in the theatre.
Burn This

Ticket Lottery and Rush Schedule

Every day there are discounted Broadway show tickets sold as part of the Broadway ticket lotteries or as RUSH tickets. Tickets are only valid on-the-same-day of the drawing. The following is the daily schedule of the ticket lottery and RUSH ticket pricing.
Online Lottery
Monday, 12:00am
Tuesday, 12:00am
Wednesday, 12:00am
Thursday, 12:00am
Friday, 12:00am
Saturday, 12:00am
Hudson Theatre
145 West 44th Street
New York, NY 10036
Entrance:
44th Street Between 7th Ave and 6th Ave
Theatre Information
Burn This Marquee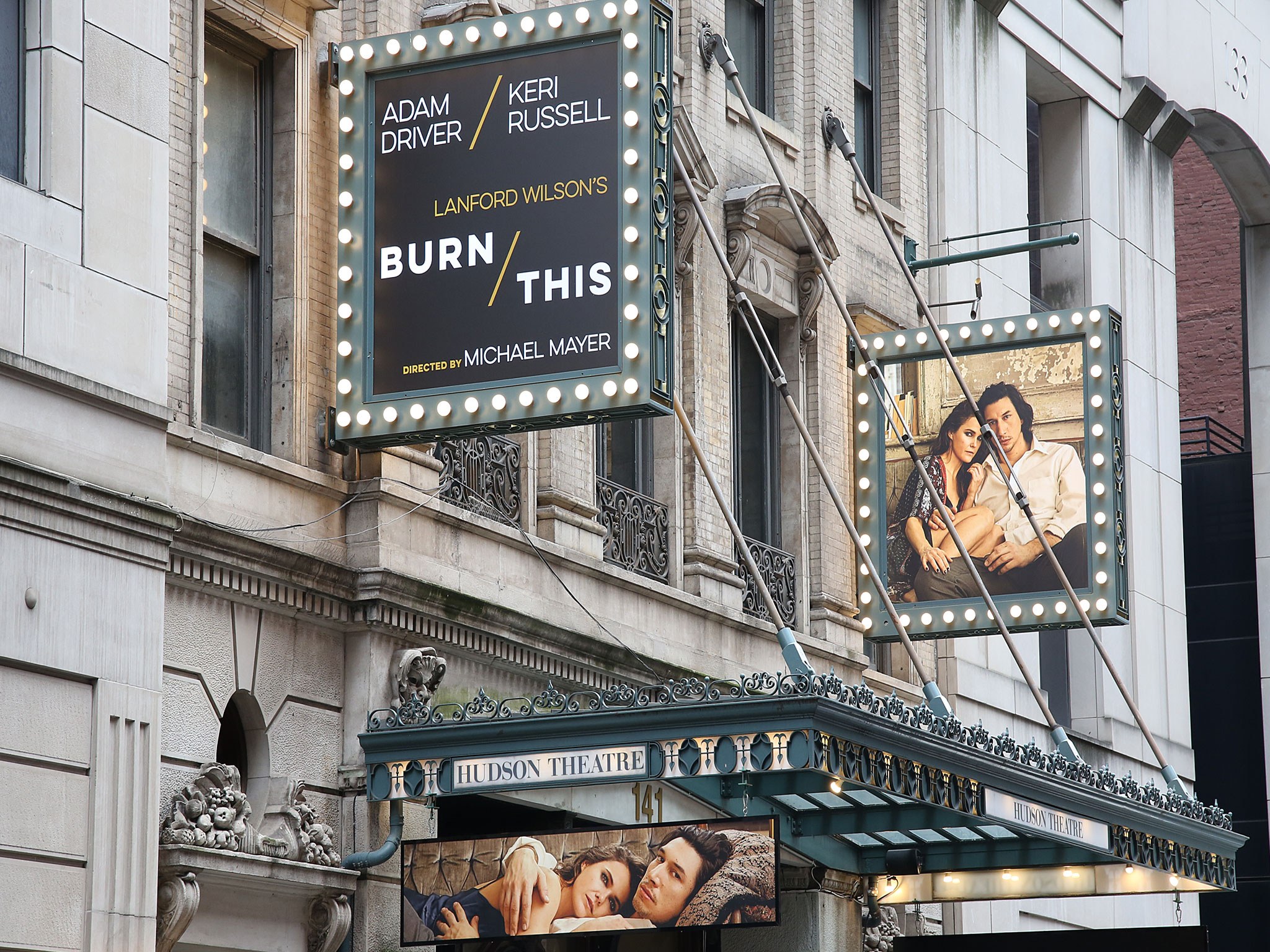 Scenic Design

Derek McLane
Costume Design

Clint Ramos
Lighting Design

Natasha Katz