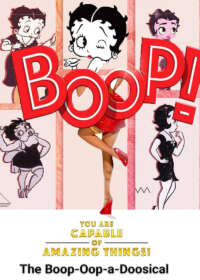 BOOP! The Betty Boop Musical
Broadway Show In Development
BOOP! The Betty Boop Musical is in Development
BOOP! The Betty Boop Musical

Summary
Show Status: In Development

Genre: Musical

BOOP! The Betty Boop Musical is 1 hour and 45 minutes long, including an intermission of 15 minutes

8 Shows per week

Show Closes: Open ended
The inimitable Betty Boop joins her friends Bimbo and Koko to work her irresistible charm in reuniting her grandfather (who has created the Greatest Invention of Mankind) with the long-lost, true love of his life, while saving the Happy Heart Theater from the developer's bulldozers.
BOOP! The Betty Boop Musical

on Broadway Background
The Betty Boop Musical Developed in 2003
The Betty Boop Broadway musical has been in the works since 2003.
When the original musical was first developed in 2003, it was set for a 2005 premiere in the Netherlands but that did not pan out.
2007 Version of the Show
The musical was later taken over in 2007 by Sally Robinson and Oscar Williams, who partnered with Susan Birkenhead and David Foster. They developed a new version of the show.
The musical was then set to debut again in the Netherlands, but this time in 2011 - which also failed.
2023 Chicago Production And Then Broadway
Betty Boop is finally slated to premiere in Chicago and then expected to open on Broadway in 2024. The Chicago engagement will run from the 19th of November, 2023 to the 31st of December, 2023 at the CIBC Theatre in Chicago.

Boop! The Boop-Oop-a-Doosical
The new show name is Boop! The Boop-Oop-a-Doosical
Choreographer

Jerry Mitchell