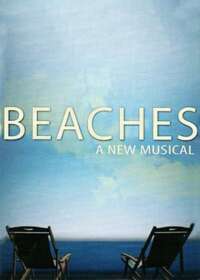 Beaches
Broadway Show In Development
Beaches is in Development
Show Status: In Development

Genre: Musical

Beaches is 2 hours and 30 minutes long, including an intermission of 15 minutes

8 Shows per week

Show Closes: Open ended
New musical based on the Iris Rainer-Dart novel that follows a pair of female best friends and and their changing relationship from adolescence to adulthood
Beaches

on Broadway Background
This Broadway musical was written by the Pittsburgh, PA born American author and playwright, Iris Rainer-Dart, who originally wrote the 1985 novel that this musical is based on.
Novel Turned Into Movie
Dart's Original novel also named 'Beaches', was made into a movie in 1988 and starred the Oscar, Grammy and Golden Globe award winning actress, Bette Midler who Dart said "brought the lively character to life". Barbara Hershey also starred in the 1988 movie.
Iris Rainer-Dart Previous Works
Dart has been well known in the Broadway industry for many decades as a prominent playwright. She is well known as being a hands-on artist and this musical production is no exception. As well as being known for her famous novel, her other claim to fame was her work on infamous The Sonny and Cher Show where she was the screenwriter for the entirety of the hit variety television show from 1971-1974.
Beaches Musical On Stage
This musical played in London's West End in late 2019 and the show was directed by Lonny Price, who has also directed shows like, Sweeney Todd: The Demon Barber of Fleet Street and Sunset Boulevard.
Musical Set For Out Of Town Tryout
Beaches has a run scheduled Theatre Calgary in Canada in May 2024 through to June 2024. It then has aspirations to move to Broadway.
From grade school pen-pals to opponents in the field of love, Beaches follows one set of lifelong best friends over the course of 30 years.
The musical takes place in Atlantic City, NJ in 1951 and tells and reflects on the dipping and peaking bond between the lively Cee Cee Bloom and the traditional and good-looking Bertie White.
Audiences watch from an omniscient view throughout the extraordinary friendship the main characters have through the years. Cee Cee and Bertie laugh, fight and cry together and the audience can relate to the story and their own complicated relationship ebbs and flows.
The show is a Broadway musical that features original music and lyrics, as well as spirited and refreshing dialogue which accompanies the story and songs.
Is
Beaches

Good for Kids?
This show deals with complicated life relationships and the content goes over the heads of most children under 13 years old.
Jennifer Maloney-Prezioso
Right Angle Entertainment
Book Writer

Iris Rainer Dart
Lyricist

Iris Rainer Dart