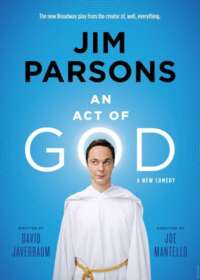 An Act of God (2015, Jim Parsons)
Broadway Show Tickets: Show Closed No Longer Available
An Act of God (2015, Jim Parsons) on Broadway: Show Is Now Closed
An Act of God (2015, Jim Parsons)

Summary
Show Status: Closed

Genre: Play

An Act of God (2015, Jim Parsons) is 1.5 Hours long, including an intermission of None

8 Shows per week

Previews Began: May 5, 2015

Show Opened: May 28, 2015

Show Closed: August 2, 2015
An Act of God is a new comedic play by David Javerbaum, who formerly served as head writer and executive producer of Jon Stewart's The Daily Show. The play is based on a book he wrote in 2011 entitled "The Last Testament: A Memoir by God." Like the satirical publication on which it is based, the play is a hilarious riff on the Bible, along with a series of jokes and stories.
An Act of God (2015, Jim Parsons)

on Broadway Background
The role of God is played by Jim Parsons ("The Big Bang Theory," Harvey, The Normal Heart), and the play is directed by Joe Mantello (whose many Broadway directing credits include The Last Ship, Casa Valentina, Other Desert Cities). Mantello is not only known for crafting supremely engaging theatrical experiences as a director, but he himself is also a seasoned actor. In particular, Mantello and Parsons acted together on Broadway in The Normal Heart, so they definitely have an established rapport that will ensure An Act of God is a precise and hilarious exploration of the concept of God and religion, with a humorous bent. The show is produced by Jeffrey Finn, whose previous credits include The Elephant Man, I'll Eat You Last: A Chat with Sue Mengers, Dead Accounts and American Idiot. Jim Parsons last appeared in Studio 54 in the Roundabout Theatre Company production of Harvey, which received excellent response both commercially and critically.
What's
An Act of God (2015, Jim Parsons)

Like?
The play is a star vehicle for Jim Parsons, who has delighted his numerous fans for years on stage and screen. Other than the role of God played by Parsons, there are two smaller parts: angels who lend God a hand. Parsons, who has won four Emmy Awards for his role on TV's "The Big Bang Theory," is a comedic master, and David Javerbaum has proved his comedic chops by earning 11 Primetime Emmy Awards for "The Daily Show with Jon Stewart." The production will take place at Studio 54, a theatre generally occupied by the Roundabout Theatre Company, although this will be an independent commercial production.
Is
An Act of God (2015, Jim Parsons)

Good for Kids?
Yes! The show is appropriate for children over the age of 4. Children under the age of 4 are not permitted in the theatre.
Studio 54 Theatre
254 West 54th Street
New York, NY 10019
Entrance:
54th Street between 7th and 8th Avenues
Theatre Information
An Act of God (2015, Jim Parsons) Marquee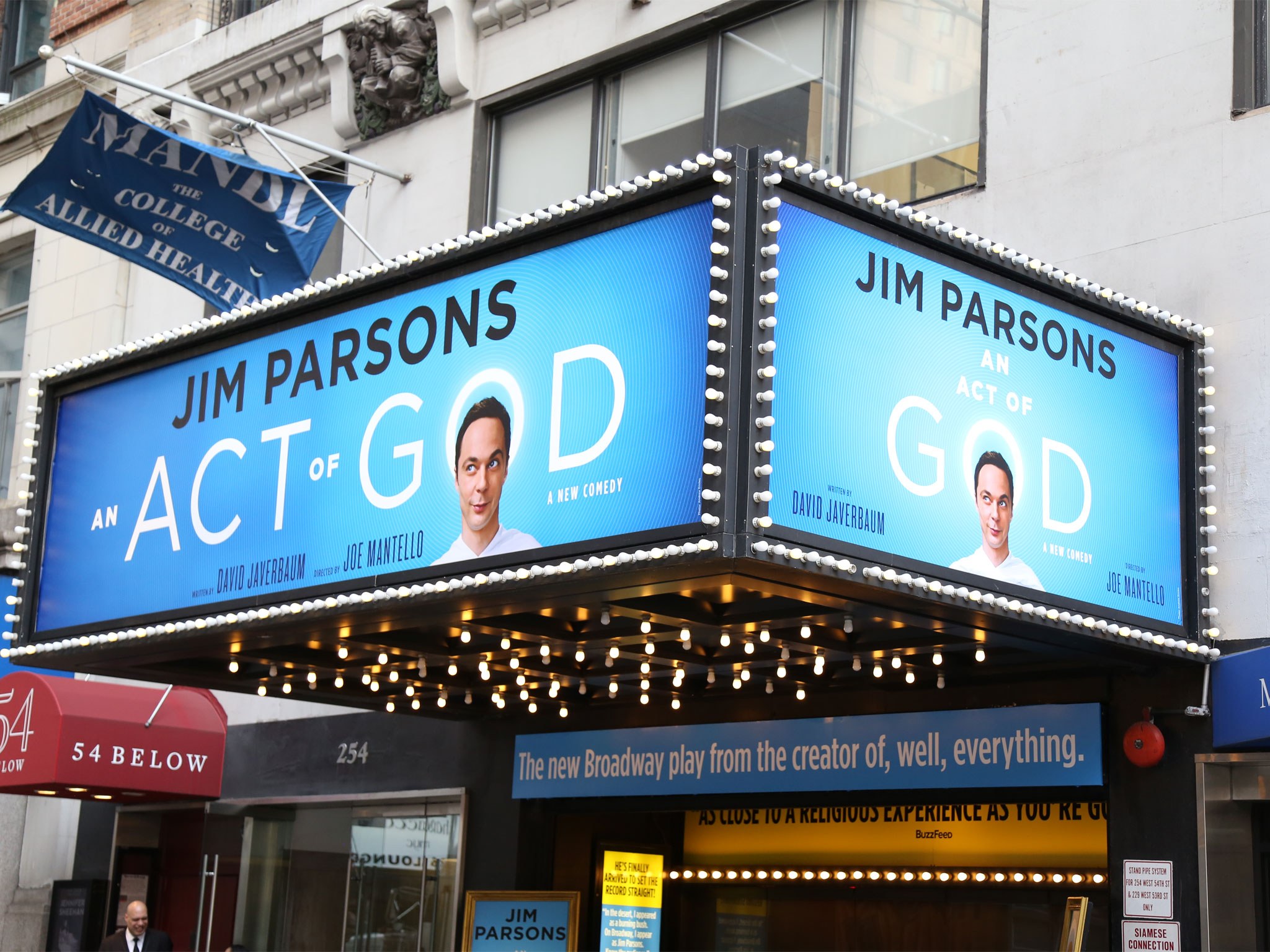 Michael

Christopher Fitzgerald
101 Productions, Ltd (Executive Producer)
Costume Design

David Zinn
Lighting Design

Hugh Vanstone
Projection Design

Peter Nigrini
General Manager

101 Productions
Company Manager

Roseanna Sharrow at 101 Productions
Casting Director

Casparelliotis Casting
Advertising Representative

Serino Coyne