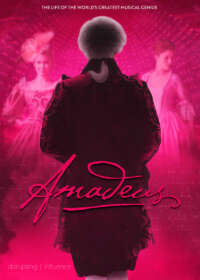 Amadeus
Broadway Show In Development
Amadeus is in Development
Show Status: In Development

Genre: Play

Amadeus is 140 minutes long, including an intermission of 15 minutes

8 Shows per week

Show Closes: Open ended
Revival of Peter Shaffer's 1979 play Amadeus and 1984 movie of the same name, that is a fictionalized account of the rise of composer Wolfgang Amadeus Mozart in 1782's Vienna.
Amadeus

on Broadway Background
Broadway revival of Peter Shaffer's 1979 play Amadeus and the 1984 movie of the same name directed by Miloš Forman and adapted by Peter Shaffer.
Salieri Cast As The Antagonist Despite Contradictory Historical Facts
Peter Shaffer used artistic license in his portrayal of the relationship between Mozart and Salieri. This created a false narrative of competition between the two composers.
Documentary evidence suggests that there may have been some occasional antipathy between the two men but the idea that Salieri was the instigator of Mozart's demise is not correct.
Amadeus Initial Theatrical Success in 1979
The show was first performed in 1979 in London's West End.

1981 Broadway Production
A subsequent Broadway production, starring Tim Curry as Mozart and Ian McKellen as Salieri, won the 1981 Tony Award for Best Play. Shaffer then adapted his play for the 1984 film starring F. Murray Abraham (in an Oscar-winning performance) as Salieri and Tom Hulce as Mozart.
1984 Movie Success
The 1984 movie grossed $52 million in the United States and Canada and by November 1985, while still in theaters overseas, had grossed over $90 million worldwide to date.
1999 Broadway Production
The play was most recently revived on Broadway in 1999 in a production starring Michael Sheen as Mozart and David Suchet as Salieri.
A non-musical and fictionalized account of the lives of composers Wolfgang Amadeus Mozart and Antonio Salieri.

Is
Amadeus

Good for Kids?
The Broadway show does not contain any material that is adult centric and the show is determined to be suitable for children over the age of 14 years old.