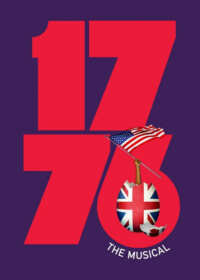 1776
Broadway Show Tickets: Show Closed No Longer Available
1776 on Broadway: Show Is Now Closed
Show Status: Closed

Genre: Musical - Revival

1776 is 2 Hours and 30 Minutes long, including an intermission of 15 Minutes

8 Shows per week

Previews Began: September 16, 2022

Show Opened: October 6, 2022

Show Closed: January 8, 2023
A historical musical chronicling John Adam's efforts to persuade his fellow congressmen to vote for American independence from England, and underlines the gender imbalance among the Founding Fathers by casting the show only with performers who identify as female, transgender or nonbinary.

1776

on Broadway Background
1776 is Sherman Edwards and Peter Stone's Tony Award winning musical detailing the events that lead to the signing of the Declaration of Independence.
Show Debut on Broadway in 1969
The show made its Broadway debut in 1969 and was met with positive reviews and five Tony nominations. Of these nominations, it ultimately won "Best Musical", "Best Performance by a Featured Actor in a Musical", and "Best Direction of a Musical".
Film Adaptation in 1972
The show would go on to receive a film adaptation in 1972 that earned nominations in both the Golden Globes and the Academy Awards. The musical was revived on Broadway in 1997 and received a milk-toast reception and has now returned to the Broadway stage after a 14 year hiatus, but now with A-list actors and a whole new score.
Set in the Spring of 1776, the show follows John Adams, a oft-disliked political delegate from Massachusetts, as he attempts to convince his fellow members of the British controlled Second Continental Congress to vote on his proposals of American independence from King George in England.
The majority of Congress refuses to acknowledge Adams' revolutionary ideas, leading the Massachusetts delegate to assemble a team of like-minded peers.
John Adams Brings Together a Powerhouse of Political Figures
With the likes of Benjamin Franklin, Thomas Jefferson, and John Hancock on his side, Adams attempts to convince the rest of Congress that independence from England is necessary to achieve self determination, proper taxation and freedom to choose its own future.
He achieves this through speeches, political appeasement, and one of the most important documents in American history, the Declaration of Independence, that forms the crux of democracy in the New World.
Comparisons to Hamilton
The show leverages upon the success of Hamilton, but fails to bring a hip-hop score that appeals to a younger demographic and instead goes with a conventional approach to the score.
This show is family friendly and a solid history lesson for any children in attendance.
However, some children may find the subject matter dull and a little bit uninteresting as it might feel like going to school.
American Airlines Theatre
227 West 42nd Street
New York, NY 10019
Entrance:
42nd Street between 7th and 8th Avenues
Theatre Information
1776 Marquee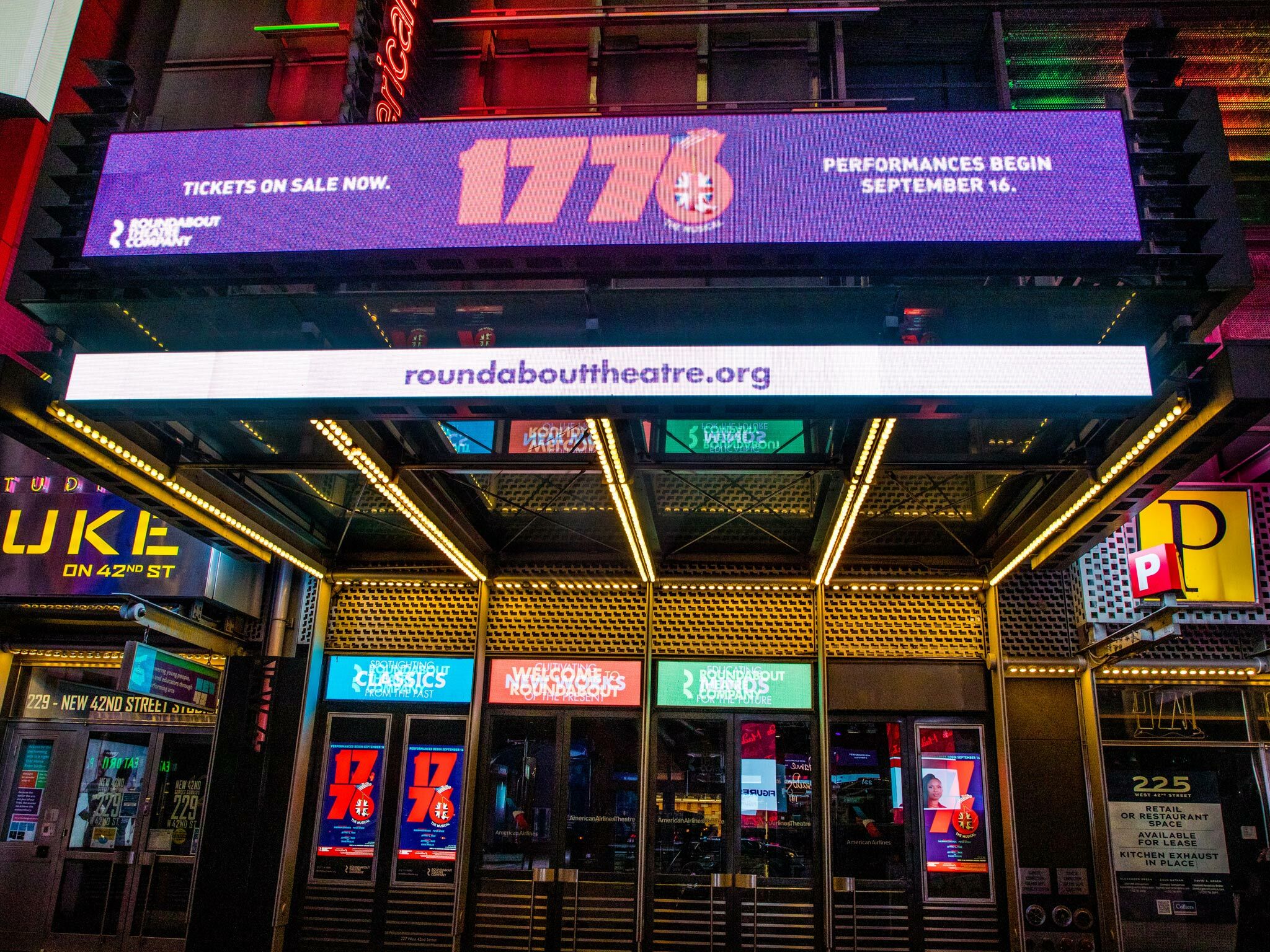 John Adams

Kristolyn Lloyd
John Adams

Crystal Lucas-Perry
Robert Livingston

Gisela Adisa
George Read

Nancy Anderson
Col. Thomas McKean

Becca Ayers
Andrew McNair

Tiffani Barbour
John Dickinson

Carolee Carmello
Abigail Adams/Rev. Jonathan Witherspoon

Allyson Kaye Daniel
Thomas Jefferson

Elizabeth A. Davis
Charles Thomson

Mehry Eslaminia
Stephen Hopkins

Joanna Glushak
Richard Henry Lee

Shawna Hamic
Martha Jefferson/Dr. Lyman Hall

Eryn LeCroy
Benjamin Franklin

Patrena Murray
Joseph Hewes

Oneika Phillips
Edward Utledge

Sara Porkalob
Judge James Wilson

Sushma Saha
Roger Sherman

Brooke Simpson
Dr. Josiah Bartlett

Sav Souza
Caesar Rodney

Jill Vallery
Roundabout Theatre Company
American Repertory Theatre
General Manager

Denise Cooper
Casting Director

Jim Carnahan
Advertising Representative

SPOTCo
Music & Lyrics

Sherman Edwards