Ding Dong, The Witch is Dead: The Wizard of Oz is 70!
Posted on September 24, 2009
---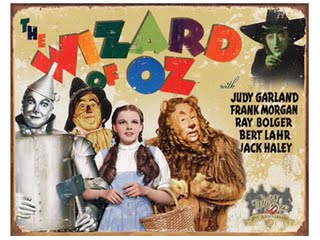 Some movies become more beloved and iconic as the years pass (and no, we don't mean "Ishtar.") "The Wizard of Oz" falls squarely into that category, however, and this year, the film celebrates its 70th anniversary. Events have already been celebrated throughout the year, but New York is joining in the fun next week with a concert and showing of the film in Central Park. The concert and screening will take place on Tuesday, September 29 at 7:30 pm in Central Park's Rumsey Playfield. (Don't follow the yellow brick road, but do enter the park at 69th Street and 5th Avenue; seating is first come, first served.) Singer Jennifer Hudson ("Dreamgirls") and "Dancing with the Stars"' Julianne Hough will be on hand to serenade spectators with modern (no, we don't really know what that means) versions of the classic Harold Arlen/E.Y. Harburg songs from the movie. A restored, high-definition version of the film will roll on a giant screen after the concert ends, presented by Netflix and Warner Bros. Home Entertainment. (FYI, a special 2-disc collector's edition of the film will be released on Blu-ray DVD on Sept. 29 as well; and Netflix is also offering free online viewing of the film on October 3.) In addition, the movie will be screened again this Saturday, Sept. 26, as part of this year's New York Film Festival. Flying monkeys and ruby slippers forever!